Our portfolio of services now includes this revolutionary new technology: A digital Eyetracking instrument that functions online and enables remote eye motion measurement in the individual's own environment.
Setting the obvious impact on cost- and time-efficiency aside, this border-breaking instrument influences online market research methodology fundamentally on different levels:
It is fully non-intrusive. Centrally administered, this remote Eyetracking tool requires absolutely no additional technology – no equipment, no gadgets need to be installed at the respondent's location. His space is left untouched, so that his behavior is not liable to the effects of an observation bias. The measurement is objective, precise and subtle. We overcome the regional limitation for conventional eye tracking methods. Large quantitative surveys that incorporate an Eyetracking dimension are now possible on a global scale. Centralized administration, data collection and analysis secure results of higher precision, greater consistency and stable reliability. Regional and cultural influences are minimized as the conversion error is literally nullified. The standardization of measurement with an instrument that is scientifically trialed and tested means data is both coherent and comparable – across markets and time.
The genesis of the measurement of eye motion goes back more than 130 years and has seen different approaches. The most popular method today uses video images from which the eye position is extracted. Other variants use search coils (inductive sensor) or are based on the electrooculogram (EOG), which does not measure response to individual visual stimuli. Stimulus driven is the electroretinogram (ERG), which finds most use in medicine and diagnostics.
Applied to market research, eye motion measurement is mainly operationalized through the use of infrared cameras. Test persons need to wear a helmet to which a camera that measures each eye movement is attached. Point of focus on the stimulus viewing material is then extracted by deductive calculation. Another frequently used technique uses special cameras that are affixed to the respondent's monitor and record exactly what the respondent is looking at on his monitor. There are other measuring techniques, but they all have one common denominator – the requirement for additional hardware before they are operational. This is their limitation and their drawback. They are inefficient in terms of time and cost saving. As only executable for a specific hardware configuration, conventional eye tracking can only be implemented with limited samples and only in presubscribed locations. Under such laboratory conditions, the test persons feel observed and restrained, no longer able to behave in a natural and honest manner.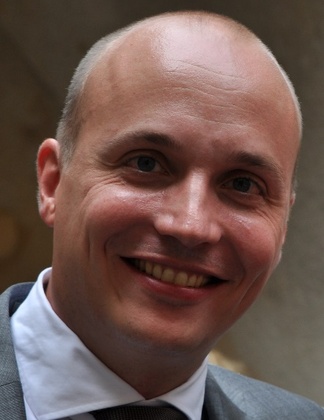 Prof.(FH) Dr. Sebastian Berger
This advanced technology is launched in a collaborative partnership with Professor Dr. Sebastian Berger, who has, in close cooperation with the University of Vienna, successfully overcome the obstacles of hardware requirement and laboratory testing conditions. His innovation is unequaled in that it is: Stand-alone, remote, centrally administered and fully non-intrusive.
The creative impulse originates from the knowledge that most of a viewer's field of vision is obscure and blurred and that only a minute focal point is sharp and clear. This "Focal Point of Clarity" can be navigated across the visual on the monitor by the User's movement of the mouse. To arrive at the exact point that the User wishes to see, he needs to move his mouse to that point in the visual (on the monitor). The rest of the visual is designedly blurred through the use of an Obscurity Mask. The User unmasks the focal points of his interest. His behaviour is recorded and directly measureable.

Example of the Obscurity Mask: The mouse is focused on the face of the woman on the left in the picture.
This instrument, patented in Austria, was recently covered in a publication of "Psychology & Marketing", an acknowledged scientific journal.

Eyetracking has been validated against classical laboratory methods. Here are some results. Left: Online Eyetracking with n=300 sample size/ Right: classical laboratory test with n=30 sample size.
The results are at least comparable, with valid reason to believe that the benefits already discussed (precision of measurement, central administration, independence of location, non-intrusiveness) will with time provide proof of superiority.
This instrument makes worldwide Eyetracking surveys immediately available - with sample sizes that were previously inconceivable and turnaround times that could never be achieved with classical methods.
Publication in Psychology & Marketing:
Assessing Advertising Effectiveness: The Potential of Goal-Directed Behavior
Please reach out to us in case you are interested in hearing more:
Moritz Kisselbach m.kisselbach@mo-web.net