NEWS
May 11th 2023
WeLoveResearch Rooftop Party 2023
Düsseldorf, May 11, 2023
AMR Advanced Market Research & moweb research with THE networking party for the German-speaking market research industry: the WeLoveResearch Rooftop Party 2023!
In the unique Düsseldorf location "Sturmfreie Bude" 150 guests celebrated high above the rooftops of the Rhine metropolis until late into the night and showed that fun and commitment for a good cause can be two sides of the same coin.
Guest of honor that evening was Eva Fischer from the board of directors of Tafel Deutschland e.V. With impressive words, she presented the history, purpose and the currently particularly great challenges of her volunteer organization, which now also increasingly supports people from the so-called middle class.
At the end of the evening, she was pleased not only about the donation check of almost 2,000 euros, but - in the long term certainly much more important! - about many new people who went home after the party with more knowledge, sensitivity and respect for the work of the Tafeln.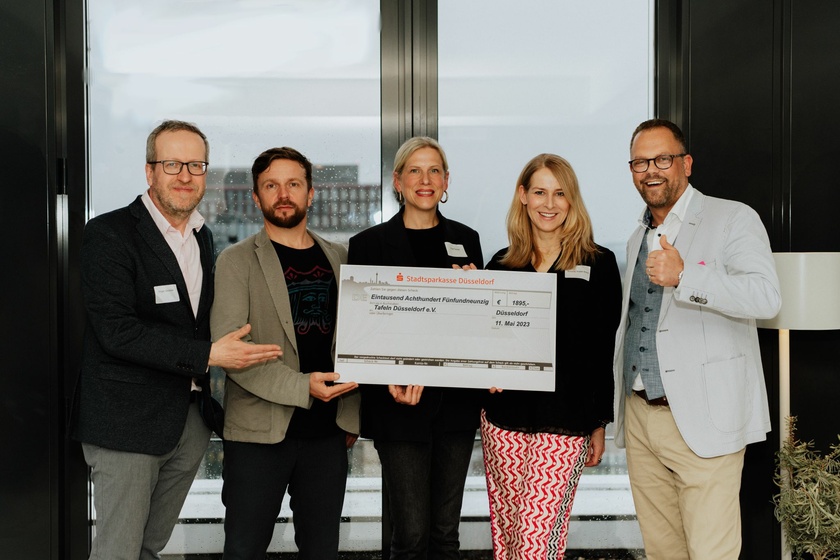 The performance of Göran Hielscher (The Inspiracy Group) was also a real blast. With just a handful of words, he put a real energy bomb among the guests and showed how networking events can really ignite.
In classic fashion, with a bouquet of flowers, host Herbert Höckel thanked both Simone Waller-Klink of the succeet GmbH as well as Holger Geisler of marktforschung.de.
Both are responsible for the realization of the "Week of Market Research", in the context of which the WeLoveResearch takes place every year.
Back to the "Düsseldorfer Tafel": Neither for moweb nor for AMR the fundraising campaign remains a one-time thing. We stay tuned and would like to draw attention to the work of this great institution again and again in the future!
And for all of you who couldn't be there live at the WLR: Donations are of course possible EVERY TIME and EXPRESSLY appreciated: To do so, please click here on the donation page click.
Photo Credit: samyhanna.com